Hello lacquered lovelies! Happy Tuesday! I hope your week has gotten off to a good start :) Mine... not so much. The last week of classes is always the week from hell so I'm just hoping to make it through alive! I don't set my goals very high, clearly... ;)
Today I've got... okay. So when I first started getting obsessed with polish, I'd see a neutral or a nude and dismiss it.
Not today,
my brain would yell.
There's glitter to be worn and it should be worn anywhere, everywhere, all the time!
That's pretty accurate, actually. How else would I have gotten the nickname that led to the name of this blog? Anyway, basically, I didn't see the point in bothering with nudes for ages because I was always more preoccupied with wearing glitter bombs or greens that people told me looked like baby puke or snot. I've gotten some weird comments on my nails, yes. Lately, I've come to appreciate nudes (I keep giggling like a tool every time I write that) a lot more. I've been on a hunt for my perfect... I'm going to say neutral now... for probably three or four months now. Most of the ones I've thought seemed promising look too brown on me, or they have really strong yellow undertones, which is pretty much a guaranteed way to make something look like crap on me.
Enter Borghese Almondine. I can't say how long I've been obsessed with owning this polish. I look for it every single time I'm in a drugstore that sells Borghese. I never saw it. I never saw it when it was out and I've never been lucky enough to find it since. After obsessing about it on Twitter and hearing good things back from people who owned it, I decided to resort to evilbay. Yep. What can I say? I was desperate. I pulled the trigger right away and attempted to wait patiently for the package to arrive.
When it did... love at first sight. It's got a pink flash that you can see in the bottle but I never spotted it on my nails. But really? WHO CARES. It's amazing because black microglitter. Yes. I filed my nails down again to try it out, since I tend to prefer nudes on shorter nails... on long nails it freaks me out a bit haha. This was three coats. You could probably get away with two, but I was having some issues with the brush... it's pretty wide and my nailbeds are stupid narrow.
I want to wear it again! It's so pretty, seriously. It's going to be my go-to palette cleanser and I love the black microglitter... it gives it something special that probably only people like us would notice!
What do you guys think? I may have ordered a few more bottles of it... one for my momma, one for Jen, maybe a back up or two for me... maybe...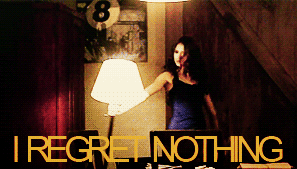 Thanks for reading! Have a beautiful day!