Hello lacquered lovelies! Happy Saturday whooo! I hope all my American friends had an excellent Thanksgiving!
Today I've got swatches of the Lac Attack/Glitta Gloves collaboration collection, Magical Musings. These are, of course, Harry Potter-themed polishes, and you guys know how hard I love Harry Potter, so I might possibly nerd out a bit talking about some of these.
I don't really have words for how much I love these. I've dreamed of a Harry Potter collection for so long that I can still hardly believe that this is real and that I got the chance to help make one!
All swatches are with basecoat and topcoat. Some are on their own, some are layered - I'll specify in the intro to each polish.
Just so I'm not repeating it over and over - the formulas for these were great. These glitters are more dense than glitters Anastasia has done previously, and I know she was worried about them being super thick. They weren't at all. I found them all easy to apply and even the problem children (there were two, sort of) were still easy to work with.
Swatches under the cut - lots of photos in today's post!
First up, fittingly, is Amortentia. Amortentia is the most powerful love potion in the world. It smells like whatever attracts the person most. This is a really lovely polish. I know I'm not really one for pink but it's gorgeous. Pink glitter with some holo glitter mixed in and light purple hexes. I was surprised at how much I loved this one on! I wore it on its own but I imagine most people will choose to layer it - my nails are so short at the moment that it took me three coats to reach a level of opacity I was happy with, but people with longer nails would probably need more. I think this would look really cute over periwinkle... I must try that soon!
Dementor's Kiss. I don't have words for how much Dementors scared me when I was younger. I didn't even know what Dementors would make me think of but I knew that I wouldn't like it haha! A Dementor lives off the sorrows of people, and its strongest weapon is its "kiss" - sucking a human's soul out through their mouth. Creepy, eh? Anyway, this is a black and red glitter in a clear base. I love it, are you surprised? Black glitter. I layered two coats of Dementor's Kiss over one coat of China Glaze Concrete Catwalk. I wanted to keep it dark and thought the red would show up nicely over the dark grey.
Durmstrang. Another one of the European wizarding schools, located somewhere in the north, because Dumbledore introduces them as "friends from the north" and because of the furs that are part of the uniforms. I'm pretty sure Rowling said that it's in Scandinavia. Also, in the Goblet of Fire film, it appears that Durmstrang is an all boys school and most of those boys are pretty attractive (not Krum, though. Definitely not Krum eww) so yeah... I'd be okay with that. Durmstrang is a somewhat sheer shimmery icy blue with gold shimmer and black diamond shards. I wanted to keep going with the cold theme, so I layered two coats of Durmstrang over two coats of China Glaze Splish Splash. This is (sort of) problem child one - I had a bit of issues getting the diamond shards to not just immediately go to the edge of my nails. A bit of placement was required but it wasn't difficult so I didn't mind too much.
Death Day Party. Harry goes to Nearly Headless Nick's 500th death day party in the Chamber of Secrets. He finds out that Nick feels left out among some of the other ghosts because he can't join the Headless Hunt (since his head isn't actually severed, you see). Nicholas is one of my favourite characters so I love this polish for making me think of him haha! This is a really hard polish to describe... lots of flakes and iridescence. I love that the main colour of the flakes is grey though. I chose to layer this over a white to try and show as much of the colours as I could. This is two coats of Death Day Party over three coats of Essie Marshmallow.
Beauxbatons Academy. The French wizarding school. If I couldn't go to Hogwarts, I think I'd like to go to Beauxbatons.... even though I don't speak French haha. One of the things I think most people think of when they think of Beauxbatons is the powder blue carriage the students arrive in during the Triwizard Tournament... I always loved the mental image of it. I'd like that carriage also. This is definitely one of my favourites of the collection. I love them all but this is the first polish I wore and it actually pained me to remove my manicure so I could keep swatching them the next day! Beauxbatons Academy is a pale milky-with-a-hint-of-blue with white squares, two different shades of blue, yellow and iridescent glitter. The base for this polish is fairly sheer, but I used a ridge filler as my base coat, which helped hide some of my staining (as well as giving me a tiny bit of white) so I felt more comfortable wearing it on its own. I'm sure it would be beautiful layered but after testing a few combinations out on a nail wheel, I really preferred how it looked on its own. This was three coats.
Felix Felicis. Liquid luck. A desperately tricky potion to make but man, I'd make it all the time if I could. Harry taking the Felix was one of my favourite parts in the movies just for this...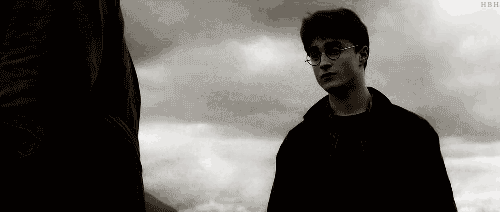 "Not to mention the pincers..."
Anyway, Felix makes the drinker lucky for a time (depending on how much they take) - they will succeed in any endeavour they attempt. I'm amazed that people don't make it all the time, seriously. Except for it being toxic in large quantities and the kinda weird side effects if it's brewed wrong... Felix Felicis is a gold glitter topcoat. I see everything in here. Little gold flakes, gold shimmer, gold hexes, gold squares (be still my heart!)... perfect. A great layering polish (especially with the holidays coming up!) and one coat gave me excellent coverage. This is one coat of Felix Felicis over one coat of OPI I Brake for Manicures.
Hogwarts. My dream school when I was younger. I was so convinced that I would have an owl telling me I got accepted, man. How many children were crushed when they didn't get them? Cruel. Anyway, despite the cruelty of its namesake, I love this polish. It's a mixture of silver, orange, green and blue glitter - there might be more colours in there that I can't see but those are the main ones. I loooooooove this one and it's kind of like a little piece of Ana and I in there hehe - part of our House colours are in here! According to Pottermore, I'm a Ravenclaw and she's a Slytherin! No wonder we get along so well, to me Ravenclaw and Slytherin are quite similar. I hate when people say Slytherin is the "bad" house, it's so black and white. The qualities that end up getting people sorted into Slytherin aren't necessarily bad. ANYWAY, this is three coats on its own. :)
Holidays in Hogsmeade. The only all-wizarding village in Britain. I would love to live there pls. This is a perfect Christmas polish. Two shades of green, large red and white glitter. I know it was only just Thanksgiving for some of you but we celebrated Thanksgiving in October and Christmas season has officially hit at my work, so I've got the holidays on the mind. I chose to layer this over two coats of OPI Here Today, Aragon Tomorrow suede... one of my favourite greens ever. This was the second (sort of) problem child - this one is a bit thick. Not so thick that it's impossible to work with, just thick enough that I was conscious of it in comparison to the others. I also had more issues getting the white glitter out than the red and green - not sure why but perhaps I only noticed it because I love white glitter haha.
Weasley's Wizard Wheezes. Named for the joke shop two of the best characters (Fred and George and oh god FRED) started up. That store sounds like the happiest place ever, no lie. I could live there forever. Weasley's Wizard Wheezes is a mixture of orange and yellow glitter and yes, that is bar glitter you see, and no, I don't hate it! I think it's perfect for a Fred and George polish haha. I wanted to layer this over a bright blue but the combination was seriously making my camera spaz, so I ended up layering it over a darker blue instead. This is two coats of Weasley's Wizard Wheezes over one coat of OPI Yoga-ta Get this Blue!.
And last (but certainly not least) is another one of my favourites, the Horcrux of It... A Horcrux is an object in which a witch or wizard has hidden their soul. Yes, this is pretty much reserved for the bad guys because you have to split your soul to make one and yes, you do that by killing someone. Voldemort had seven Horcruxes because he wanted to be immortal but that didn't work out so well for him, so I wouldn't recommend making one. This is a sheer black base with small green and mustard-ish glitter, plus larger green hexes. Seriously love this. And with a thin topcoat (Essie Good to Go) it was so shiny! This is two coats of the Horcrux of It... over one coat of Wet n' Wild Black Creme.
SO MANY PHOTOS.
So! That's our collection? What do you guys think? I seriously love them. I'm biased though, so... do any catch your eye?
The Magical Musings collection will be available December 1st on the
Lac Attack
website. It says that international shipping isn't currently available but don't worry, Ana is sorting that out! These will be $8 for a full size and $4.25 for a mini. You can also keep up with LA on
Facebook
and
Twitter
to stay updated on an exact time for the sale. :)
I really wanted to get these up and give you guys at least a week to ponder on what you might want to scoop up when they go live... it's now 8:30 AM here and I haven't slept yet, so I probably won't be responding to tweets/emails/comments for the next few hours. I do want to say, though, that Anastasia and I have been so overwhelmed with the support from you guys - all of your sweet comments have meant the world to us and we're so happy you guys are excited for these!
Thanks for reading! Have a beautiful day!